Pablo Picasso Reproduction Great Abstract Wall Art Paintings
 .     Pablo Ruiz Picasso was a Spanish painter 1881-1973
1.  A dream, 1932
2.  Weeping Woman, 1937
3. Jacqueline with Flowers, 1954
4. Portrait of Dora Maar, 1937
5. Head of a Woman, 1909
6. Nude Woman in a Red Armchair, 1932
7. Woman in a Red Armchair, 1939
8. Seated Woman, 1930
9. Female Bust, 1971
• The Painting is Without Frame
• The Painting is Printed on Canvas
• EXTRA 1 cm (0.39 inch) white edge is Added on each end of the canvas for framing.
• The Painting is rolled up in strong tube packaging to ensure the safety in transportation.
1. A dream,1932
4.  Portrait of Dora Maar,1937
5. Head of a Woman,1909
7. Woman in a Red Armchair,1939
8. Seated Woman,1930
  9. Female Bust, 1971
  2. Weeping Woman,1937
3. Jacqueline with Flowers,1954
.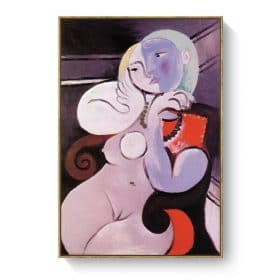 6. Nude Woman in a Red Armchair, 1932